Well, Winter time is here again, and any hope on an Indian Summer has (mostly) evaporated. Although you can never be sure, remember the first weekend of November last year? Almost "tropical" it was.
But, better safe than sorry. If you are the proud owner of wooden garden furniture it is high time to take a proper look at it before you store it away for next year.
Is it dirty or stained?
Has it become dull and listless?
Is it greying (too) much
All of the above can be solved with Saicos Furniture Care Set.
With the SAICOS WOOD BRIGHTENER and DEGRAYER is an easy to use, highly effective special liquid detergent to clean and refreshen greyed, unattractive looking exterior wood surfaces without sanding.
The original colour of the wood will appear again.
Followed by a special Teak Oil to protect your furniture for a long time
The set also contains a brush, application cloths and a cleaning pad.
Everything you need in one pack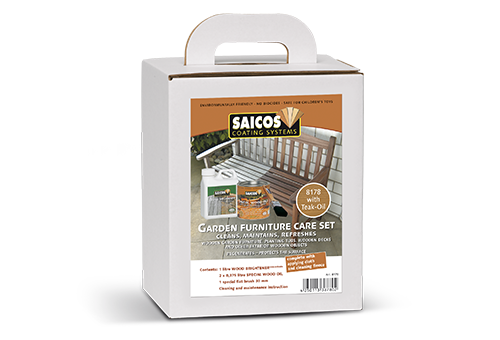 Like your wooden floor, your wooden garden furniture will stay beautiful and healthy a much longer time when you regularly care for it.
For other outside wood, check out the special category Exterior Wood Care
Thank you for your time, do visit our
Secure Webshop
- all links in articles and pages are coloured red
Celebrate our 15th Anniversary with us - see our
Special Blogpost page
for your discount!
---